Here is the distribution of midterm grades and estimated course averages: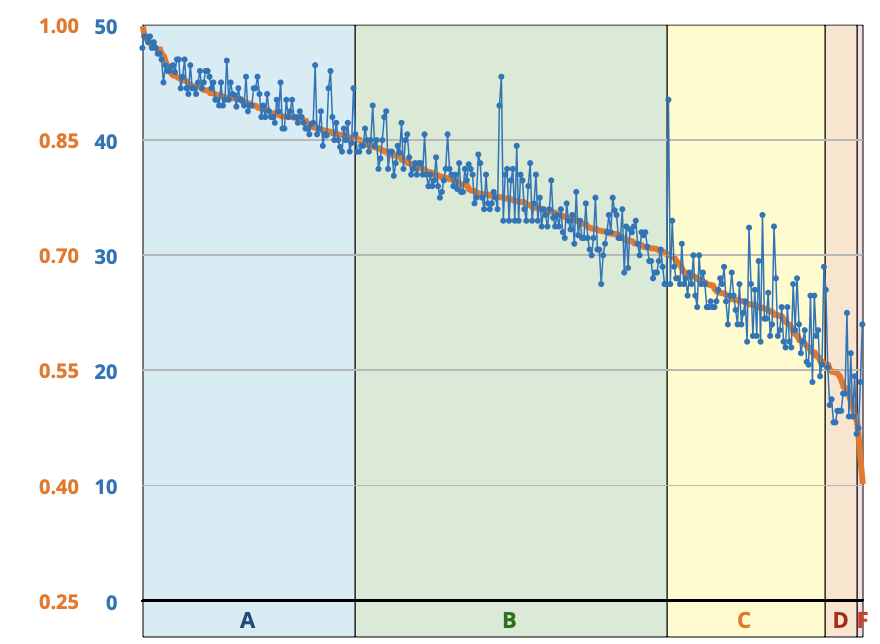 The orange curve shows computed course averages (35% Homeworks 1–4 and GPS 1–5 + 65% Midterm 1) for all students who took the regular exam, in sorted order. These averages were used to define the vertical letter-grade boundaries. The blue dots show the corresponding midterm scores for each student. Dots that are further above the orange curve indicate students with lower homework averages.
Assuming a HW+GPS average of 92% (the class median), a midterm score of at least 40 is consistent with an A, a midterm score between 29 and 39 is consistent with a B, and a midterm score between 17 and 29 is consistent with a C.
Please keep in mind that this is an extremely rough prediction of your final course grades, based on roughly 30% of the overall work. Past experience suggests that most students' final course grades will be within one letter grade of these estimates, but differences of a full letter grade (in either direction) are quite common, and there are a few differences of two letter grades or more (in either directions) every semester.
Students are strongly encouraged to talk with Jeff before dropping the class. Jeff will be available Friday 10–12 and 1–4, exclusively for students who are thinking of dropping the class and/or are seriously concerned about their midterm performance.